Programma NEVAC-dag 2022: 60 jaar NEVAC
13 april 2022

Rijksmuseum Boerhaave, Lange Sint Agnietenstraat 10, 2312 WC Leiden
Dagprogramma
9.00 Opbouw stands bedrijvenmarkt
9.45 Ontvangst en koffie
10.15 Introductie door Sense Jan van der Molen, voorzitter NEVAC
10.30 Abel Streefland (TU Delft),
Jaap Kistemaker en uraniumverrijking in Nederland
11.10 Gesa Welker (TU Delft)
Vacuüm op de koudste plekken ter wereld
11.50 NEVAC prijswinnaar 2022: Jesse Koenders (DIFFER)
Actief schild tegen de hitte van een fusiereactor
12.20 Lunch en rondleiding door Rijksmuseum Boerhaave (aanwezigen kunnen het museum de hele dag ook zelfstandig bezoeken)
12.30 NEVAC-ALV en bedrijvenmarkt
14.00 Freek Molkenboer (TNO)
CSI, de nieuwe Space kalibratiefaciliteit bij TNO
14.40 Johannes Jobst (DEMCON Advanced Mechatronics B.V)
SMART: accelerator-based, high-volume production of medical isotopes
15.20 Demonstraties door bedrijven van hun producten
16.00 Borrel en rondleiding door Rijksmuseum Boerhaave
17.15 Buffet (voor degenen die zich hiervoor tijdig hebben aangemeld en na betaling)
Avondprogramma
18.45 Spetterende wetenschapsshow door
Stichting Rino
en inloop breder publiek
19.30 Avondlezing: Joost Frenken (ARCNL, VU en UvA):
Veel druk(te) om niets
Link naar deze publiekslezing
Kosten deelname
NEVAC lid gratis
NEVAC-bedrijfslid gratis
Niet-NEVAC-lid € 20 inclusief lidmaatschap
Niet-NEVAC-lid, B.Sc./M.Sc. student € 5 inclusief lidmaatschap
Stand NEVAC-bedrijfsleden € 350
Andere standhouders € 500 inclusief bedrijfslidmaatschap
Dinerbuffet € 27,50
Organisatie
Guido Stam, Sense Jan van der Molen, Gertjan van Baarle en Fred Schenkel
Informatie: Guido Stam, WGstam@Physics.LeidenUniv.nl
Informatie standhouders: Pieter Heidema, pieter.heidema@vacuubrand.com
Download de pdf van NEVAC blad 2022-1 met daarin het complete programma en samenvattingen van de lezingen
NEVAC Symposium 2021, ARCNL, online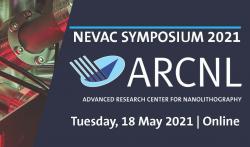 It gives us great pride to announce that this year,
ARCNL
will organize the
NEVAC Symposium
on May 18, 2021 fully online.
Please, check out
arcnl.nl/nevac
for this year's program and for your registration for attending the NEVAC Symposium 2021. We hope to welcome all of you for that great day. In addition to a number of exciting lectures, we offer an
online tour
of ARCNL and two sessions with so-called
bullet presentations
, as an alternative for the traditional poster session.
Bullet presentations
are compact, 3-minute presentations, without questions and answers. You can submit your title and abstract by filling out that information on the registration form. The deadline for these special presentations is
Friday, 23 April
. We will get in touch with you soon after that to let you know whether your contribution was selected, after which we will provide you with instructions for the pre-recording of these mini-presentations.
This year's organizers:
Prof. Joost Frenken, Dr. Jan Verhoeven, Dr. Roland Bliem
This year, the Symposium will not be combined with the annual
General Assembly of the Members of the NEVAC Society
. This meeting will take place online Wednesday 12 May, 19.30 hr. Register for the General Assembly
on this page
.
Registration
Participation in this year's NEVAC Symposium is free of charge, even if you're not a NEVAC member yet (
membership registration page
). In order to get a ZOOM link to our meeting, you first have to register at
arcnl.nl/nevac
.
download flyer
Postponed: NEVAC day 2020, ARCNL Amsterdam
Postponed due to COVID-19
More information will follow
The NEVAC Symposium 2020 is organized by the Advanced Research Center for Nanolithography (ARCNL). We offer an attractive program of lectures, posters, exhibition, the NEVAC Annual Meeting and lab tour of ARCNL. As usual the symposium is free of charge for members of the NEVAC.
Organizers
Prof. Joost Frenken
Dr. Jan Verhoeven
Dr. Roland Bliem
Location
Amsterdam Science Park Congress Center (lectures, posters, exhibition, lunch)
Science Park 125, 1098 XG Amsterdam
ARCNL, Advanced Research Center for Nanolithography (lab tour, drinks)
Science Park 106, 1098 XG Amsterdam
Program
09.30 Arrival + Coffee (Amsterdam Science Park Congress Center)
10.00 PLENARY SESSION
- Ron Heeren (Maastricht University):
Ions, Images and Innovation: How molecular microscopes make medicine more precise
- Rutger Schlatmann (Helmholtz Zentrum, Berlin):
Pushing solar energy conversion beyond today´s efficiency and cost limits
- NEVAC-Prize, including lecture
11.45 NEVAC Annual Meeting + Lunch
11.45 Lunch + Poster Session
13.30 PARALLEL SESSION A
- Eric Louis (University of Twente):
Recent developments in optics for EUV-lithography
- Gosse de Vries (ASML, Veldhoven):
EUV lithography and its vacuum of a kind
- Bart Weber (ARCNL, Amsterdam):
Why does friction limit our ability to make smart phones smarter?
13.30 PARALLEL SESSION B
- Diederik Depla (Ghent University):
Impurity dominated film growth
- Thomas Lucas (Eindhoven University of Technology & ARCNL):
Smart*Light: A Compact Inverse Compton X-ray Source
- Mehdi Saedi (Leiden University):
Formation of two-dimensional materials on liquid metal catalysts: An in situ investigation
15.00 Tea break
15.30 PLENARY SESSION
Ulrike Diebold (Vienna University of Technology):
Oxide Surfaces at the Atomic Scale
16.15 Transfer to ARCNL (5 minutes walking to MATRIX-VII Building)
Lab tour ARCNL
Drinks
18.00 END
Registration
Registration is required to participate in the NEVAC Symposium 2020. Registration is free of charge for NEVAC members.
For non NEVAC members, a modest fee of € 25 is requested.
More information will follow