59-2 - juli 2021
Uit de inhoud:
* (PhD) Student? NEVAC beloont je verhaal met 1000 of 250 euro!
* Van de redactie: Afscheid en welkom
Claud Biemans
* Spingolven meten: Een magnetische seismoscoop van elf atomen
Robbie Elbertse
* NEVAC Symposium bij ARCNL: Veel EUV, maar ook andere kleuren in het vacuüm
Claud Biemans
* Wie wordt onze penningmeester?
* 60 jaar NEVAC: 13 april 2022, Rijksmuseum Boerhaave, Leiden
* HAXPES: XPS met harde röntgenstralen zonder synchrotron
Ad Ettema
* Stel je voor: Frans van Roosmalen
* CO2 als grondstof voor synthetische kerosine en het belang van plasma voor hergebruik van CO2
Alex van de Steeg & Adelbert Goede
* Gezocht: Hoofdredacteur en redactieleden voor het NEVAC blad
59-1 − april 2021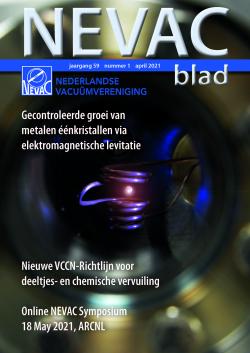 Uit de inhoud:
* Applied Vacuum Technology training for PhD students and postdocs in 2021
* Van het bestuur: Een virtueel begin: NEVAC-dag en ALV
Sense Jan van der Molen
* (PhD) Student? NEVAC beloont je verhaal met 1000 of 250 euro!
* Gecontroleerde groei van metalen éénkristallen via elektromagnetische levitatie
J.P. Witteveen, A. van Houselt, R. van Gastel, H.J.W. Zandvliet
* Reactie: Berglandschap in gasontladingselektronenkanon
Bert Suurmeijer
* VCCN-Richtlijn 12
Olof Teulings
* Program online NEVAC Symposium 2021, 18 May
* Exploring the physics and chemistry of nanolithography
Roland Bliem, Jan Verhoeven, and Joost Frenken
* Notulen NEVAC ALV 2019
* Financieel jaarverslag 2019 en 2020
* Verslag kascommissie 2020 en 2021
* Wie komt het NEVAC-bestuur versterken?
* Jaarverslag Commissie Opleidingen
* Nieuw product: Leybold ECODRY 25 en 35 plus
* Stel je voor: Berend Munneke
58-3 − november 2020
Uit de inhoud:
* Applied Vacuum Technology training for PhD students and postdocs in 2021
* Van de redactie: Een voordeel van de lockdown...
Karine van der Werf
* Van het bestuur: De vereniging in COVID-19 tijden
* NEVAC Prize 2020: Coverage-dependent metal-organic coordination networks on Au(111)
Brian David Baker Cortés, Nico Schmidt, Mihaela Enache, Meike Stöhr
* Geschiedenis: De ontwikkeling van gasontladingselektronenkanonnen bij Philips
Claud Biemans
* De bouw van ITER in beeld
* Verificatie en validatie van ultrahoogvacuümsimulaties voor de ETpathfinder
Vera Erends
* Vacuum technology: The new ZAO NEG alloy for ultra high and high vacuum applications in electron microscopes
Marco Urbano, Andrea Cadoppi, Dario Nicolosi, Enrico Maccallini, Paolo Manini, Michele Mura, Tommaso Porcelli, Fabrizio Siviero, Luciano Caruso
* Eiwitten van coronavirus in beeld met Eindhovense cryo-elektronenmicroscoop
58-2 − juni 2020
Uit de inhoud:
* Map of ALD@NL
* Editorial: Atomic layer deposition in the Netherlands
Erwin Kessels & Bart Macco
* ALD – a truly enabling nanotechnology; And how the Netherlands contributed to its wide spread application
Erwin Kessels
* Plasma-assisted Atomic Layer Deposition; High-volume manufacturing and new opportunities in research
Harm Knoops
* Hot-Wire assisted ALD; Another example of radical enhanced atomic layer deposition
Alexey Y. Kovalgin, Antonius A.I. Aarnink, Mengdi Yang
* ALD on particles; Scalable production of nanostructured materials
Ruud van Ommen
* Atomic Layer Deposition for crystalline silicon solar cells; Innovate at the nanoscale, deploy at the gigawatt scale
Bart Macco
* Interface engineering by ALD in organo-metal halide perovskite solar cells; Reflections on the state-of-the art and perspectives
Adriana Creatore
* Spatial Atomic Layer Deposition for large-area and flexible electronics
Paul Poodt
* Area-selective atomic layer deposition for bottom-up fabrication of nanoelectronics
Adrie Mackus, Marc Merkx, Jun Li
* Tailoring the properties of 2D transition metal dichalcogenides by ALD
Ageeth Bol, Shashank Balasubramanyam, Saravana Basuvalingam, Jeff Schulpen, Vincent Vandalon
* Etching with atomic-level precision; The emerging field of atomic layer etching
Adrie Mackus, Tahsin Faraz, Nick Chittock
* ALD@NL Day
58-1 − april 2020
Uit de inhoud:
Ultraschoon vacuüm: "De juiste reinheid op de juiste plaats"
Freek Molkenboer
Frits van der Velde (Photonis), Een mechanicus met talent voor vacuümtechniek
Claud Biemans
Haalbaarheidsstudie naar het gebruik van lange-slag elastische scharniermechanismes in waferhandling robotapplicaties
Ir. S.J. van Haaren, Ir. J.A.J. Brand, Prof. dr. ir. D.M. Brouwer
Applied Vacuum Technology: "Leren hoe je apparatuur heel houdt"
Gesa Welker
Stel je voor: Jaap Brand
VCCN-richtlijn 12
57-2 − juli 2019
Uit de inhoud:
Unravelling the reaction mechanism of CO2 reformation to methanol using sub-nanometer copper clusters, Olga V. Lushchikova
Demaco: "Voor tenders van grote wetenschappelijke projecten krijg je van de Nederlandse regering geen ondersteuning"
Nieuwe cursus vacuümtechniek speciaal voor promovendi en postdocs
NEVAC-dag 2019
Vacuümtechniek: Een flens met 22 doorvoeren, Frans van Roosmalen
Stel je voor: Janneke Zeebregts
Inauguration ZIAM Electron Microscopy Center Groningen
57-1 − april 2019
Uit de inhoud:
Ion energy control during plasma-enhanced atomic layer deposition: Enabling materials control and selective processing
in the third dimension, Tahsin Faraz, Harm Knoops, Erwin Kessels
Vacuum pressure bursts: Effects of contamination on elastomeric vacuum sealing surfaces, Konstantinos Gkrekos, Stan Tolhuis
Clean 2019, Rients de Groot
Programme NEVAC day 2019
Vacuümtechniek: Vacuümdrukmeting met een polshorloge? Bert Suurmeijer
Geschiedenis: De verdere ontwikkeling van de B&A, Theo Mulder
Boekbespreking: The state of the art of vacuum science and technology, Dr Falk Braunschweig
Lassen van glas aan metalen
56-3 − november 2018
uit de inhoud:
Een NEVAC-reis als een vacuümtyfoon door Japan
Vacuümtechniek: Nieuws van de Japan Vacuum Show
Interview: Vacuümtechniek in de technische speeltuin van ARCNL
Interview: Hightechproducten maken met een klein team
Geschiedenis: Op zoek naar UHV
56-2 − juni 2018
uit de inhoud:
Tunneldiodes en metaal halfgeleiderverbindingen van grafeen-nanodraden
Interview: Hoge druk in het vacuüm van de European Spallation Source
NEVAC-cursisten bezoeken Leybold in Keulen
NEVAC-dag 2018: Wetenschap in vacuüm op de schaal van atomen en moleculen
Geschiedenis: Ionisatiemanometers
In memoriam Ries van de Sande
56-1 − maart 2018
uit de inhoud:
Het ontwerp van de grootste vacuüminstallatie op aarde: de Einstein Telescope
Programme and abstracts NEVAC day 2018
ECN gaat samen met TNO
Agenda ALV 2018
Financieel jaarverslag 2017
Adriana Creatore AVS-fellow en AVS-prijs voor Janneke Zeebregts
Geschiedenis: Diode- en trioderadiobuizen
55-3 − december 2017
uit de inhoud:
Atoomlaagdepositie van tinoxide: een veelbelovende elektronentransportlaag in perovskiete zonnecellen
Interview: De centrale rol van TNO in het ecosysteem van ultraschoon vacuüm
Book review: Vacuum Science and Technology
Realisation of a vacuum system for EUV beam line EBL2
Nieuws: Radiobuistechnologie herleeft bij ruimtevaart
Geschiedenis: Gloeilampen
Nieuw product: SMC para-seal gate valve: Minder deeltjes en langere levensduur
55-2 − juli 2017
uit de inhoud
Een elektronisch Lieb-rooster: Het creëren en meten van nieuwe elektronische structuren
Nieuws: Vacuümtechniek essentieel voor de Hyperloop
Interview: Twee achten voor Elementaire Vacuümtechniek bij Pfeiffer Vacuum
1,3,5-benzenetribenzoic acid on graphene: a self-assembled supramolecular porous network
NEVAC-dag 2017: Vacuüm voor duurzame energie en nieuwe technologie
ASD Workshop 2017 - Eindhoven
55-1 - maart 2017
uit de inhoud
Van de redactie: Vacuüm op atmosferische druk
Stralingsenergie meten in een fusiereactor
Interview: Jeveka, de verbindende factor in het vacuüm
Vacuümtechniek: Mitigation of particles from Sputter Ion Pumps
Solliance verbreekt wereldrecord voor roll-to-roll flexibele zonnecellen
54-3 − december 2016
uit de inhoud
Van de redactie: Meer aandacht voor vacuümtechniek bij bedrijven
Interview: Twee tienen voor vacuümtechniek
Jos Aerts: "Deze kennis komt goed van pas bij het verbeteren van de restgasanalysator"
Wietse Smit: "Vacuümtechniek leer je niet tijdens je scheikundestudie"
BABE als testbed voor fluctuatietheorie
Nieuws: Thermo Fisher Scientifc heeft FEI overgenomen
Nieuws: KJLC gaat partnership aan met Brooks Automation
Tweedimensionale materialen maken met atoomlaagdepositie
In memoriam Jaap Tomassen
Gas phase growth of Si and SiGe nanoparticles
54-2 − juli 2016
uit de inhoud
Van de voorzitter: Het nut van de NEVAC
Interview: Wim Bras: "Het niveau van het onderzoek bij DUBBLE is erg hoog"
8 Optical detection of carbon monoxide for solar fuel production: Searching for ways to bring sunlight into our engines
Oppervlaktewetenschap onder druk
NEVAC-dag: Vacuümtechniek voor een beter begrip van de natuur
Boekbespreking: De geschiedenis van het luchtledige
54-1 − april 2016
uit de inhoud
Een grote stapel geschiedenis; Sander Otte
Uitslag NEVAC-prijs 2016; Hans van Eck
Een nieuw atoomlaag-depositieproces voor effciëntere zonnecellen; Martijn Vos, Bart Macco, Erwin Kessels
Broadband transmission grating spectrometer for measuring the emission spectrum of EUV sources; Muharrem Bayraktar, Bert Bastiaens, Caspar Bruineman, Boris Vratzov and Fred Bijkerk
53-3 − december 2015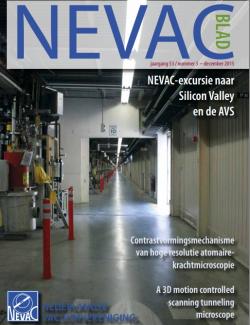 uit de inhoud
Van de redactie: Tijd om te lezen; Hans van Eck
Het ontrafelen van het contrastvormingsmechanisme van hoge resolutie atomaire-krachtmicroscopie; Joost van der Lit
Viewport: Kurt J. Lesker
Een 10 voor het NEVAC-examen Vacuümtechniek; Claud Biemans
Vacuümspecialisten laten het huisvuil toch niet meer luchten?
Testing monoatomic gold chains using a 3D motion controlled scanning tunneling microscope; Sumit Tewari, Jacob Bakermans, Christian Wagner, Federica Galli, Jan M. van Ruitenbeek
Vacuum Science and Technology zet Nederland internationaal op de kaart
Wat kun je met het 'niets'?
53-2 − juli 2015
uit de inhoud
Van de redactie: Vacuüm moet je zien, voelen en doen; Fred Schenkel
Quantum LEEP (Lage-energie-elektronenpotentiometrie): Spanning op de nanoschaal!; J. Kautz, J. Jobst en S.J. van der Molen
Workshop ALD FUNdamentals: Hot topics in ALD; Claud Biemans
Viewport: De joint venture van Scienta en Omicron tot Scienta Omicron
De actieve fase van een katalysator bestudeerd met de perfecte combinatie van experimenten onder hoge druk en vacuümtechnologie; Matthijs A. van Spronsen, Joost W.M Frenken en Irene M.N. Groot
Nieuw product: B-RAX 3300
53-1 − maart 2015
uit de inhoud
Van de redactie: Wetenschap en industrie
Real-time afbeelden van dunne-flmgroei
Uitslag NEVAC-prijs 2015; Hans van Eck
Vacuümtechniek: Nor-Cal, elektrolytisch polijsten
Comparing graphene growth on Cu(111) versus oxidized Cu(111); Stefano Gottardi, Kathrin Müller, Luca Bignardi, Juan Carlos Moreno-López, Tuan Anh Pham, Oleksii Ivashenko, Mikhail Yablonskikh, Alexei Barinov, Jonas Björk, Petra Rudolf, Meike Stöhr
Viewport: Specs Surface Nano Analysis GmbH
Nieuw product: NanoESCA
52-3 − december 2014
uit de inhoud
Studenten worden onderzoeker bij het lectoraat Thin Films & Functional Materials
AVS International Symposium & Exhibition: Duizenden topwetenschappers bijeen in Baltimore
Oeuvreprijs AVS voor plasmaspecialist Richard van de Sanden
Koude-naald-SPM: Tweede generatie variabele temperatuur SPM voor spectroscopie
52-2 − september 2014
uit de inhoud:
Siliceen, een waardige opvolger van het wondermateriaal grafeen?
European Workshop on Epitaxial Graphene
NEVAC-dag 2014
ITER: werken aan de grootste vacuümvaten op aarde
NEVAC-prijs 2015: Win 1000 euro!
Bedrijfsprofiel Atlas Copco
52-1 − april 2014
uit de inhoud:
Van de redactie: Niet niets
Luisteren naar nanodrums met atomaire dikte
Uitslag NEVAC-prijs 2014
Mededeling van de Commissie Opleidingen
ALD4PV Workshop - Eindhoven
Programme and abstracts NEVAC day 2014
Concept notulen NEVAC ALV 2013
Agenda ALV 2014
Oproep nieuwe bestuursleden NEVAC
Financieel jaarverslag 2013
51-3 − december 2013
uit de inhoud:
Design of a liquid flow cell for live cell observation in an integrated light and electron microscope
Nanofabricage van koolstofnanobuis-transistors met atoomlaagdepositie
Aart Kleyn richt nieuw instituut op in Chengdu
Pfeiffer Vacuum Benelux BV is verhuisd
De jacht op ware druk
Mededeling van de Commissie Opleidingen
In situ spectroscopic ellipsometry for studying the growth and optical constants of ALD AlN films
51-2 − juli 2013
uit de inhoud:
Het voordeel van UHV in een helium-ionenmicroscoop
NEVAC-dag 2013: Alle uithoeken van het vacuüm belicht
De relatie tussen de elektrische en optische eigenschappen van plasma-gedeponeerd zinkoxide
Aart Kleijn gekozen tot Fellow van de American Vacuum Society
Bedrijfsprofiel: Ceratec Technical Ceramics BV
Excursie Parijs, 9-13 september
51-1 − april 2013
uit de inhoud:
NEVAC nieuwe stijl
Depositie van polykristallijn silicium voor dunne-film zonnecellen
Uitslag NEVAC-prijs 2013
UHV-opstelling voor het bestuderen van de contaminatie van EUVspiegels
Programme NEVAC day 2013 and abstracts lectures
Agenda ALV 2013, jaarverslagen Commissie Opleidingen en Excursiecommissie
Concept-notulen NEVAC ALV 2012 Jan W.M. van Kessel
Financieel jaarverslag
Excursie Parijs en Mededeling Commissie Opleidingen
Bedrijfsprofiel: Mat-tech BV
In memoriam: Jarig Politiek
50-3 − december 2012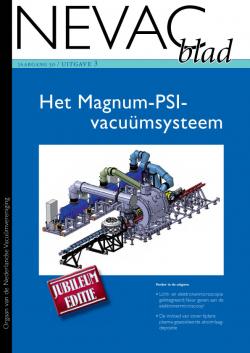 uit de inhoud:
Aankondiging NEVAC prijs 2013
Licht- en elektronenmicroscopie geïntegreerd: 'kleur geven aan de elektronenmicroscoop'
Het Magnum-PSI-vacuümsysteem
De invloed van ionen tijdens plasmageassisteerde atoomlaagdepositie
50-2 − oktober 2012
uit de inhoud:
ALD met hoge laterale resolutie
Voorstellen bedrijfslid: Nijdra groep
Een vacuümopstelling voor het op grote schaal fabriceren van grafeen van hoge kwaliteit
Impressie 50ste NEVAC dag
Verslag van de Korea excursie
Aankondiging NEVAC prijs 2013
50-1 − maart 2012
uit de inhoud:
NEVAC dag 2012
ReactorSTM en ReactorAFM: kijken naar katalyse
Structurele karakterisatie van halfgeleider nanostructuren met cross-sectional scanning tunneling microscopie en atom probe tomografie
De FLEXICOAT-300: een roll-to-roll PECVD systeem voor fabricage van dunne film silicium zonnecellen op folie
49-2 − september 2011
uit de inhoud:
NEVAC prijs
Moleculaire bruggen, dynamica en massatransport op nanoschaal
Kalibratie van de precursor flux in een elektronenmicroscoop
In memoriam Frans Habraken
49-1 − april 2011
uit de inhoud:
Notulen ALV Delft april 2010
Programma NEVAC dag 2011
Switching Casimir forces using the amorphous to crystalline phase transformation in phase change materials
48-2 − augustus 2010
uit de inhoud:
Atoomlaagdepositie voor het verbeteren van het rendement van silicium zonnecellen
In memoriam Prof.dr. J. Kistemaker
Bijdragen HET Instrument
48-1 − maart 2010
uit de inhoud:
Notulen ALV Leiden
NEVAC - dag 2010
Abstracts NEVAC - dag
In memoriam Dr.ir. Theo Bisschops
47-3 − november 2009
uit de inhoud:
Scanning Force Microscope for Planetary Research on Mars
Bedrijfspresentatie BOA Nederland BV
In memoriam Ir. J.H. Makkink
47-2 − juni 2009
uit de inhoud:
NanoElektroMechanische Systemen
HiPace turbopump garners highest red dot design award
Using mass spectrometry to gather some insights in the fundamentals of the reactive magnetron sputtering process of Al with O
2
47-1 − maart 2009
uit de inhoud:
NEVAC dag 2009 Leiden
Notulen ALV 2008
Jaarverslag commissie opleidingen
Abstracts NEVAC dag 2008
46-4 − december 2008
uit de inhoud:
Implementatie van spindetectie in een commerciële scanning tunneling microscope
Van Becker's baffle tot turbo, 50 jaar turbopomp technologie
K-Alpha, an Exciting New Concept for Surface Analysis Using XPS
46-3 − september 2008
uit de inhoud:
De Delftse intense positronenbundel POSH
Het Casimir effect: gebaseerd op iets of helemaal niets?
46-2 − april 2008
uit de inhoud:
Programma NEVAC dag 2008
Notulen ALV 2007
NEVAC jaarverslag 2007
Abstracts NEVAC dag 2008
Data-opslag in dunne lagen door middel van snelle fase-overgangen
Adixen - DeMaCo - Symposium
46-1 − februari 2008
uit de inhoud:
Hete draad depositie van dunne films
Internationale conferentie over atoomlaagdepositie in de Lage Landen
Fluorescentie van silicium